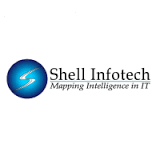 Shell InfoTech Hiring Fresh Graduates | Software Engineer | Dec 2017
Company Name: Shell InfoTech
Website: www.shellinfotech.com
Designation: Software Engineer
Job Location: Mumbai
Experience: Freshers
Eligibility:
BE, B.Tech Graduates from 2016, 2017 Batch are eligible to apply.

Must have min 60% and above in all your academic credentials.

Streams: ECE, CSC, IT Stream only.

Only Mumbai candidates must apply [F2F Mandatory].

Any certification either in Java or Oracle Certified Mandate.

Must be available for F2F Interview in Mumbai Andheri.
Knowledge & Skills:
Candidate must have specific knowledge in IT Area with any Java Certification like OCP, OCJA, SCJP, OCAJP, OCPJP, OCE, OCM, CDAC.
Apply Mode: Walk-In
Process: Interested candidates please revert back with below details to email id: sravani.ch@shellinfotech.com
Details Request For:
Full Name:

Contact Details [Best Number]:

Current Location:

Certification:

Year of Passing:

PAN Card Num:

Please attach and send resume along with photograph.